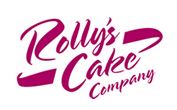 info@rollysbrownies.co.uk
07540 726549
Rolly's Brownies is based in Weymouth on the Dorset Coast, it is the online shop for Rolly's Cake Company. Founded in 2009 by Helen Rollinson, Rolly's Cake Company aimed to supply delicious homemade cake made with local ingredients to local people.
Rolly's homemade brownies are a wonderful gift, baked fresh to order using locally sourced ingredients where possible, including free-range eggs. A number of different flavours are available and all are available gluten free. They are available via the Gluten Free Hub (see our listing above) or…
Rolly's Brownies are available to buy online – go on, treat yourself!