---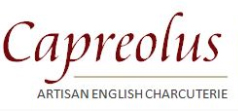 www.capreolusfinefoods.co.uk
sales@capreolusfinefoods.co.uk 
01935 83883
Capreolus Fine Foods is an award-winning, family owned artisan charcuterie maker in Rampisham. David and Karen Richards produce traditional charcuterie with a flair for flavour, using state-of-the-art techniques.
Quality and provenance are paramount. Products include cold-smoked wild venison and mutton, air-dried beef, ham and pork, pancetta, lardo, guanciale, salamis and dry cured bacon.
You can browse and buy online here.