---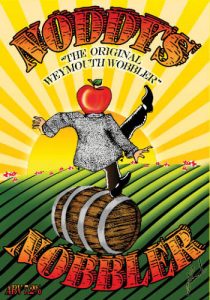 www.facebook.com/Noddys
noddyscider@gmail.com
07749 614551
Noddy's Cider started life in 2017/8 from the back garden of Noddy's terraced house in Weymouth. It's a family affair with one common goal in life – to make a cider that we love to drink.
It wasn't long before we outgrew our garden but it was important to us that we stay local and so, in 2019 we moved into a beautiful old milking parlour at Nether Cerne, on the outskirts of Dorchester, where we now craft our cider using only the finest Dorset cider apples that come from an orchard just 7 miles away. We never use apple concentrate.
As we are a 'micro cidery', our products are sold exclusively at shows or events. If you happen to see a bunch of happy smiling people behind Noddy's cider bar at a show or event, then come and say hello and have a free taster on Noddy. We love making cider and love meeting people, and always try to make time to 'talk cider'. Plus, our smiles are always free!