---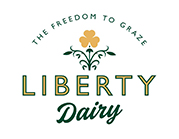 www.libertydairy.co.uk
judith.libertydairy@btinternet.com
07546 795213
Liberty Dairy is based at Liberty Farm in West Dorset, a family-run organic dairy farm. We take fresh organic milk from the farm, pasteurise it and sell it directly to our customers through vending machines situated in local farm and village shops.
Liberty Farm is committed to farming in a sustainable way; managing the land organically to safeguard traditional habitats, upholding high standards of animal welfare, and allowing the cows in our herd to graze pastureland during the Spring, Summer and Autumn.
Find retailers and vending machines here.