---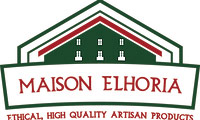 www.maisonelhoria.com
sophie@maisonelhoria.com
07833 663348
Based in Dorset, Maison Elhoria uses the traditions of pâté making which have run through generations in Sophie's family.
We also offer unique, high quality artisan kitchen textiles, woven /manufactured in the French Basque Country and in the UK. Inspired by Basque, French traditional old fashion style.
It all started a few generations ago when preserving food/ canning (meat as well as vegetable) was part of the yearly routine. Sophie decided to follow the steps of her mother & grandmothers while living in Maison Elhoria, in the south West France, with young children and a large vegetable garden!
Everything from Pâtés, bolognaise, ratatouille, tomato coulis to jams were made according to the seasons and what was available.
Artisan tea towels, bread baskets and wash bags made from 100% Egyptian Cotton available in a multitude of colours and patterns. Woven in the French Basque Country and made in the UK.
Paté de Campagne; It simply doesn't taste any better! Based on a secret family recipe, this is perfect for any occasions from light lunches to picnics!
Order online here.