Welcome to Screen Bites 'Second Slice' – let's have some fun and watch movies – and share the vast pantry of foods from bakers, makers, brewers and distillers across the county. 
---
A new event for Christmas!
The Watch House, West Bay, Bridport, DT6 4EN
Thursday, 9th December, doors open at 5pm.
Wear your best elf hat!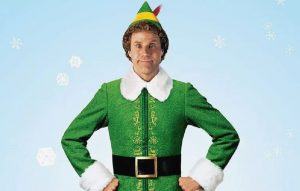 Will Ferrell as Buddy, Elf (2003)
Elf (2003) Dir: Jon Favreau
Your ticket includes supper, a choice of either fish and chips in a paper cone or a 9″ pizza.
Pre-book your preference when you buy your ticket.
More details and booking here
Doors open at 5pm, supper served at 5.30pm, film at 6pm.
Last minute booking enquiries call The Watch House: 01308 459330
____________________________________________________________________________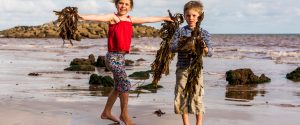 Gathering Seaspoon edible seaweeds!
Screen Bites list of local producers
We know to keep healthy we need good food and this can be both delicious and local We have compiled a list of local food producers who have been busy baking and making; and you can buy treats and staples online and have them delivered to you at home – see our list here.
Everything from breads, meat, fish and ready meals to cheese, alcoholic beverages, vegan, vegetarian, gluten free and even nutritious seaweed! Why not get together with your neighbours (social distancing of course) and make a group order? It will save postage!
Let's all do our bit to keep healthy and cheerful and help these small businesses at the same time. As the lockdown lifts it might be wise to check availability and menus as they might have been recently updated.
See the list here. Producers A – Z.
Find us on Facebook and Twitter. And to keep up to date with our news, views (and events when we can get back to socialising again) by subscribing to our newsletter.