Welcome to Screen Bites 'Second Slice' – let's watch movies again and share the vast pantry of foods from bakers, makers, brewers and distillers across the county! 
---
We all have had a long sleep – a little like Sleeping Beauty but, alas no prince! To start the year as we venture out again we are planning three film events to coincide with Dorset Art Weeks (22nd May – 6th June) at the invitation of Jenny Morisetti at Hawkers Farm, Stour Provost, SP8 5LZ. The exhibition features artists and crafters on the theme of sustainability and our choice of films reflect the same; not just food, but our response to waste in gadgets and fashion .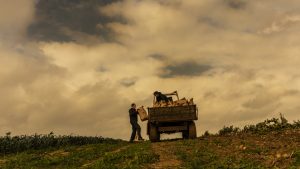 Friday 28th May, 7.30pm: This Good Earth (2021)
Dir: Robert Golden

Wednesday, 2nd June, 7.30pm: E-LIFE (2018)
Dir: Edward Scott-Clarke
Discussion with director after the film

Friday, 4th June,
The Next Black (2014)
Dir: David Dworsky and Victor Kohler
**BIG BANG PIZZA*  *VALE BAKERY*  *ECCO GELATO**
Food and bar available at these events
ALL details AND BOOKING INFORMATION here
Please note: there will be no tickets available on the door.
Last minute bookings call Jenny: 07801 240103
Screen Bites list of local producers
We know to keep healthy we need good food and this can be both delicious and local We have compiled a list of local food producers who have been busy baking and making; and you can buy treats and staples online and have them delivered to you at home – see our list here.
Everything from breads, meat, fish and ready meals to cheese, alcoholic beverages, vegan, vegetarian, gluten free and even nutritious seaweed! Why not get together with your neighbours (social distancing of course) and make a group order? It will save postage!
Let's all do our bit to keep healthy and cheerful and help these small businesses at the same time. As the lockdown lifts it might be wise to check availability and menus as they might have been recently updated.
See the list here. Producers A – Z.
Find us on Facebook and Twitter. And to keep up to date with our news, views (and events when we can get back to socialising again) by subscribing to our newsletter.