---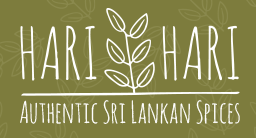 www.harihari.co.uk
hello@hariharaia.co.uk
07958 468385
Distinct in flavour from its neighbouring countries, Sri Lankan curry predominantly uses coconut milk as its base and is one of the most complex cuisines of South Asia.
Hari Hari spices bring these authentic Sri Lankan flavours to your table.
Our unique spice packs are hand crafted in the UK using pure Sri Lankan spices masterfully blended using secret recipes. Unlike your usual Friday night curry, our spice mixes will wow your taste buds and open a door to a whole new world of flavour.
Traditionally, a Sri Lankan curry consists of rice served with a main curry of chicken, beef, pork or fish along with typically 2-4 other vegetable curries, dhal and even fruit curries.  A number of side dishes would also accompany the meal including pickles, chutneys and 'sambols' the most famous of which is the coconut sambol.
You can buy Hari Hari spices online here.