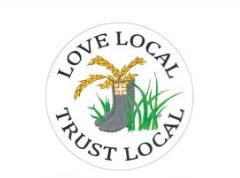 Love Local Trust Local Awards are all about championing Dorset food and drink producers, Dorset farmers and the Dorset fishing industry. It is a new idea of the Cossins family who run Rawston Farm, The Langton Arms in Tarrant Monkton and Rawston Farm Butchery and Farm Shop in Tarrant Rawston. After lengthy discussions about the state of food in the UK back in 2018,, they realised people were interested in the provenance of their food, how far it had travelled and whether it was genuine local produce – something very close to the hearts of Screen Bites fans too.
The family found the appetite for local produce was strong and set about creating their own Love Local Trust Local label with the express purpose of 'putting consumer trust back into buying local food with genuine provenance and full traceability' says Barbara Cossins. The label assures the consumer that the food has been grown with love and care, to the highest ethical standards and produced with main ingredients sourced from less than 30 miles of its origin; and, best of all, the food fosters community spirit and is good for the overall environment.
In spite of the epidemic plans for the inaugural awards went ahead. With a few minor changes of venue and, backed by generous Dorset businesses, judging took place, visits made, products tasted and savoured. In each category a worth winner was found (some new to our food producers list) and we have pleasure in listing them here with links to their websites so, you too, can see what has made a champion of this new and exciting event.
We look forward to a joint event next year, all being well!
The winners and runners up 2020:
CAKES, PASTRIES & CONFECTIONERY: SWEET INDULGENT FANCIES, LIZZIES BAKING BIRD;
JAMS, CHUTNEYS & HONEY: BARBARA'S KITCHEN, (joint runners up) BOHEMIAN DORSET & TARRANT VALLEY HONEY;
DRINKS: SHANTY SPIRIT, CRANBORNE CHASE CIDER;
FISH: BH FISH, PORTLAND SHELLFISH;
MEAT: CHASE ROYALE, THE DORSET GOAT MEAT COMPANY;
CHEESE: DORSET BLUE VINNY, THE BOOK & BUCKET CHEESE COMPANY;
DAIRY: MEGGY MOO'S DAIRY, BABOO GELATO;
DIVERSIFICATION & SUSTAINABILITY: BOHEMIAN DORSET, CRANBORNE CHASE CIDER;
INNOVATION: BH FISH, DORSET BLUE VINNY;
RISING STAR: ISSAC CIDER, CRANBORNE CHASE CIDER;
LLTL LOCALCHAMPION 2020: BH FISH, DORSET FOODIE FEED.

Image: Lizzie's Baking Bird