---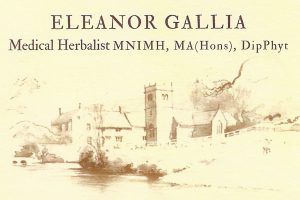 01300 432113
07779 299541
Eleanor Gallia is a Medical Herbalist (MNIMH), a shepherdess and a fledgeling  biodynamic farmer. Growing up on a Dorset farm, her imagination was caught at school when learning of the medieval humours which affirmed to her a different way to approach both health and farming. Eleanor qualified as a medical herbalist in 2001 and set up Nether Cerne Herbs, a holistic herbal practice focusing on the sustainable wild collection of medicinal plants and the integration of the individual within their natural environment. With a passionate belief in the vitality of wild native plants and their healing and restorative powers both for the land and the people, Eleanor was invited to work in the Atlantic Forest of Brazil at Iracambi Forest Research and Conservation Centre where she set up the "Iracambi Medicinal Plants Project". Together with her horse Consolo, she worked with forest farming  families, revitalizing traditional health care practises and encouraging farmers to remember the inherent value in their forest land. Iracambi Medicinal Plants Project was selected as a pilot project for what is now the "Fair Wild" standard. Eleanor is deeply rooted in Dorset and runs her herbal clinic there, offering a range of herbal medicines alongside clinic hours for one to one consultations. She is currently converting her farm, previously part of Nether Cerne Farm, to the biodynamic methods of Rudolf Steiner.
The RANGE OF HERBAL PRODUCTS AND MEDICINES are made using herbs that have been grown, wild crafted and sourced according to biodynamic and FairWild principles.  Biodynamic Agriculture is a system of farming and gardening introduced by Rudolf Steiner in the 1920s. Steiner felt our modern farming methods were deafening the earth and the methods he introduced are designed to bring us back into alignment with the plant and animal kingdoms and the whole cosmos. Working with the moon and planetary configurations , the intention of biodynamic farming is to increase the vitality of the soil, our connection with the elementals and the health of the earth.
SUSTAINABILI TEAS 
IMMUNI TEA: An immune boosting blend of elderflowers, nettles, cleavers, calendula, echinacea, pau d'arco, liquorice. Stimulates the immune system, cleanses the lymphatic system, clears the respiratory system and nourishes the adrenal glands.
TRANQUILI TEA A balancing blend designed to bring balance and harmony to body, mind and soul. Skullcap, chamomile, hawthorn, rose, motherwort, lavender, passionflower, linden blossom. A lovely gentle evening brew.
LUMINOSI TEA: A nourishing blend to settle and ease digestion and encourage gut health. Wild water mint, meadowsweet, fennel, chamomile, linseeds, fenugreek, liquorice. Perfect after meals and especially delightful brewed with a sprig of fresh mint.
VIRILI TEA: A fruity blend of Dorset and Amazonian love herbs. Oats, hawthorn, nettles, horny goat weed, damiana, jasmine. Enjoy!
TINCTURES
PROPOLIS SPRAY: Propolis is the bees' antibiotic, it is the resinous substance with which they they protect their hives. Propolis literally translates as the defence around the colony/ community. It has anti viral and immune stimulating properties and has long been used as a preservative. Blended with honey and ginger it can be used to spray the tonsils at the back of the throat for respiratory health and oral hygiene. Easy to fit into a handbag or pocket, it is perfect for keeping the first line of ones defense system strong and vibrant.
HYPERICUM TONIC: The sunshine herb. An uplifting stimulant and mild antidepressant, St Johns Wort sensitises us to sunshine, lifting our spirits and brightening our mood. Strengthening the nervous system, it can help alleviate the physical pain of shingles or the mental pain of seasonal adjustment disorder. As a treat this tincture is delicious with tonic water as a gin free aperitif. Not to be combined with medication.
FIRE OF LIFE DROPS: A Victorian recipe "when the fires of life burn low a few drops in a cup of tea have the power to revive and rouse the vital forces". Chilli pepper stimulates the circulation, peppermint the digestion, elderflower the respiratory system, hawthorn the heart and gotu kola the brain.
CREAMS
CRAMP BARK CREAM: A lovely cream for cramps and muscular aches and arthritic pains. Cramp bark, lobelia and nutmeg ease cramps while rosemary, bay and ginger soothe arthritic and muscular aches and pains.
ROSE CREAM: For delicious and delicate luxury. Ideal for tired and thirsty skin
BORAGE AND BEE CREAM: A blend of borage and propolis for eczema and very sensitive skin. A baby version is available for this cream. It is extra mild, containing no essential oils, and can be used on extremely sensitive skin.
CHILBLAIN CREAM: Wild bryony bringing relief to inflamed and itchy toes.
MONOIS
The Monois are based on a Polynesian recipe for an "enfleurage" where the flowers are steeped in coconut oil rather than heated. Monois are seen as protection against the elements, be that wind, fire or rain. In Tahiti babies would be swaddled in it and the deceased embalmed in it. Protection for this life and the next.
JASMINE MONOI: Indulgent and luxurious. Lovely to soften and moisturise thick, dry and curly hair.
MARIGOLD MONOI: With the healing properties of calendula.
LANOLIN MONOI (For over washed hands….): Combined with shea butter and sheep wool for protection for the hands in this time of Hand Washing.
OINTMENTS 
COMFREY OINTMENT: Nature's knit bone, comfrey has traditionally been used to heal bones and ligaments.
Please call or email to order herbal products or to arrange for a consultation.
ELEANOR GALLIA (MedicalHerbalist MNIMH, MA (Hons), Dip Phyt
Nether Cerne Herbs, Lower Barton Farm, Nether Cerne, Dorchester, DT2 7AJ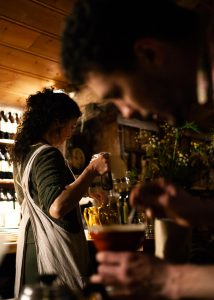 ---